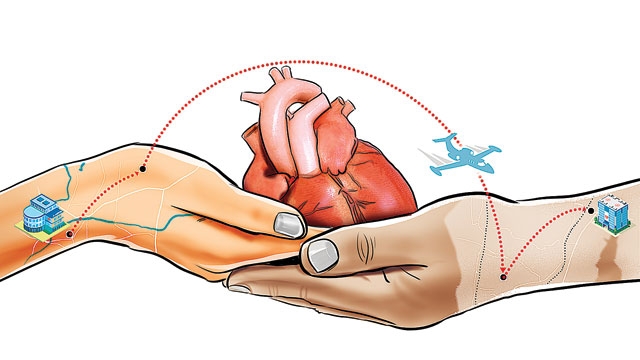 Heart from Indore travels to Mumbai in two hours to give life to an ailing man from Alibaug
For past two months now a 46 year-old-man from Alibaug in Maharashtra was waiting for a heart transplant. On Tuesday he was wheeled into the operation theatre as the news came that a heart from a brain dead patient will be flown in from Indore's Choitaram Hospital. This is the third inter-state heart transplant between Madhya Pradesh and Mumbai since October last year.
The live heart from the 45-year-old male in Indore, who was declared brain dead following a road accident, covered a distance of 566 kms in just two hours.
"The request for the heart transplant came from the family itself. We then got in touch with the National Organ & Tissue Transplant Organisation (NOTTO) in Delhi and the regional coordination centre (ZTCC) in Mumbai," said Sanjay Dubey (IAS), Commissioner Indore Division and Founder of the Indore Society for Organ Donation.
Mumbai's traffic police too chipped in to ensure that the heart got a smooth passage. "The movement of the ambulance started at 12.59 pm from the airport and reached hospital at 1.17 pm. Total distance of 19 kms was covered in flat 18 minutes," said a traffic police officer. Traffic divisions from Vakola, Kurla, Chembur, Vikhroli and Mulund ensured the swift green corridor.
"The surgery has been concluded and the recipient is now stable. We will continue to monitor him in the ICU for the next 48 to 72 hours," said Dr Anvay Mulay, Head of Cardiac Transplant Team, Fortis Hospital, Mulund.
Apart from the heart, liver was also harvested and went to ILBS in Delhi, two kidneys and corneas went to hospitals in Indore and the skin was sent to the skin bank in the city.
But for Dubey this is just the beginning. "We want to conduct heart transplant in Indore hospitals in the next three to six months. We have applied for the required permissions and licenses," Dubey said, talking about the future plans.
Source - DNA