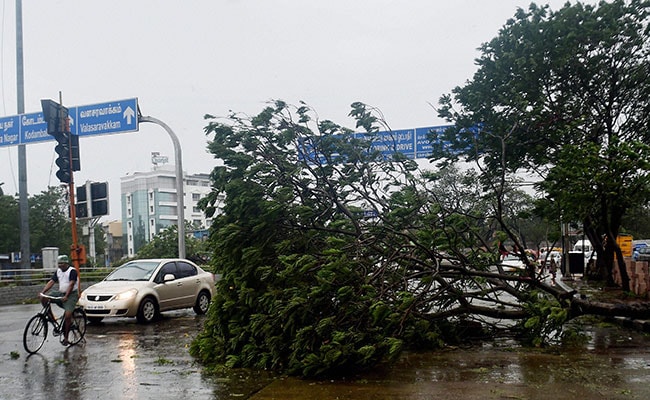 Cyclone Vardah: Thousands of trees uprooted, strewn everywhere blocking roads in Chennai
CHENNAI: Uprooted trees strewn everywhere, massive branches blocking roads, hoardings lying crumpled in a surrender of metal - Chennai, the morning after being hit by Cyclone Vardah, was a maze of slush as it tried to recover from being slammed by winds racing through it at a speed of 120 kms per hour. Schools and offices are closed today as the city tries to get back on its feet. Heavy rain has been forecast for later in the day.
Here are the 10 latest developments in this big story:
Skies are cloudy but not as dark as yesterday, when the storm whipped through Chennai. There was no wind this morning, providing some relief to teams trying to clear massive trees off the roads.
At least 10 people were killed by Cyclone Vardah. Four of them were residents of Chennai. Thousands who live near the sea have been evacuated from their homes to relief camps run by the government.
We encountered an ambulance headed to hospital that had to turn around after confronting a huge tree trunk. "It is as if we are in the midst of a forest," said A Viswanath, a businessman surveying the fallen trees in his neighbourhood.
The Chennai airport, which was closed for the whole of Monday, is back in action now, but some flights are delayed.
The ferocity of the cyclone was underscored by the sight of large cars lying crushed under uprooted trees.
In a statement issued on Monday, Tamil Nadu Chief Minister O Panneerselvam said over 4,000 trees were ripped out and fell over.
While the main roads have been cleared, it will take a few days to remove trees from residential areas, said authorities.
At the spot where former Tamil Nadu Chief Minister J. Jayalalithaa was buried a week ago at the city's famous Marina Beach, the canopy of her memorial remained intact despite the cyclonic winds.
Several sand bags were lined up around her grave to prevent flooding. The stream of visitors to the memorial continued this morning
The greatly-weakened cyclone, which has now turned into a deep depression, reached Karnataka today bringing heavy rain in the state.Cyclone Vardah: Helpline Numbers
Source - NDTV