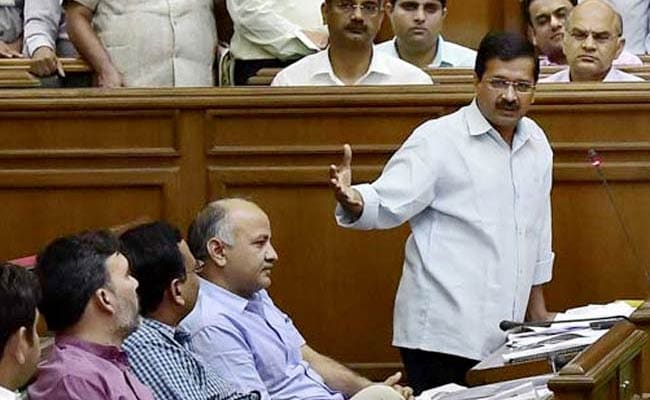 A Bill will be passed during the special session to be held on October 4.
NEW DELHI: Here is good news for the 'guest' teachers working in Delhi schools. The Aam Aadmi Party led Delhi government will soon pass a bill making them permanent. The Delhi Cabinet on today approved a Bill allowing 15,000 'guest' school teachers to be made permanent. Delhi Deputy Chief Minister Manish Sisodia - who also holding the education portfolio - said the Bill which will make the guest teachers permanent will be passed during the special session to be held on October 4.
"Cabinet clears Bill to regularise all Guest Teachers working in Delhi govt schools. Bill shall be presented in Assembly on 4th October," tweeted Mr Sisodia.
witter Ads info and privacy
This Delhi cabinet decision comes after the recruitment of around 9,000 teachers to the city's government schools has been put on hold by Lt Governor Anil Baijal, following the AAP government's insistence that the work experience of guest teachers be given weightage in the process.
Delhi Deputy Chief Minister Manish Sisodia had written to Lt Governor Anil Baijal while the Delhi Assembly had passed a resolution on August 10 demanding that the recruitment process be halted till the education department formulates a policy to give weightage to guest teachers.
Indo-Asian News Service reported that, of the total 17,000 guest teachers in Delhi government schools, 15,000 will be benefited after this bill is passed.
However, according to Mr Sisodia, about 2,000 teachers who did not meet the criteria will continue to work as guest teachers.
Earlier this year, in March, salaries of "guest teachers" in Delhi government schools was significantly hiked, in which, the salaries went up from Rs. 21,000 to Rs. 34,000, from Rs. 18,000 to Rs. 33,000 and from Rs. 16,000 to Rs. 32,000 a month for PGT, TGT and Assistant Teachers respectively.
Source-Ndtv