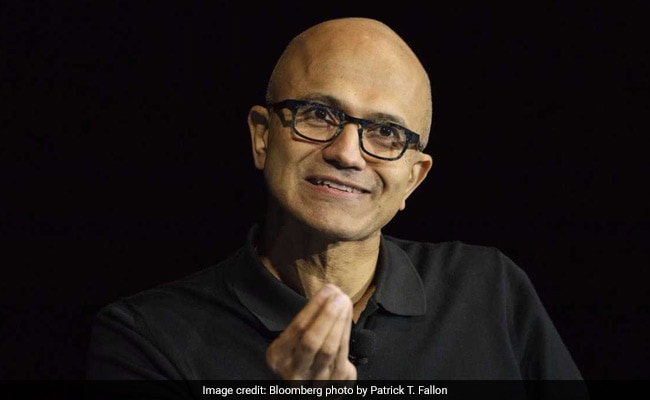 "Being an engineer and going to the West never occurred to me," said Satya Nadella.
HIGHLIGHTS
Mr Nadella hails India's leap forward into the digital age
He writes about his conversation with Infosys Chairman Nandan Nilekani
Satya Nadella, the India-born CEO of Microsoft, has given an insight into his personal life with the launch of his book 'Hit Refresh'. Mr Nadella, 50, has shared interesting anecdotes from his personal life, his humble beginnings in Hyderabad, and is full of praise for his home country India. In his book 'Hit Refresh', Mr Nadella writes that by 12th grade, his dream was to play cricket for Hyderabad. Here are some interesting anecdotes that Mr Nadella shared in his new book:
On his dream to play cricket for Hyderabad
Giving a peek into his childhood, Mr Nadella says that by 12th grade, his dream was to play cricket for Hyderabad and eventually work for a bank. He was a student of Hyderabad Public School. "By 12th grade if you had asked me about my dream it was to attend a small college, play cricket for Hyderabad, and eventually work for a bank. That was it. Being an engineer and going to the West never occurred to me," he says.
On the growth of Aadhaar program and meeting Nandan Nilekani
Mr Nadella has hailed India's leap forward into the digital and technological age, with a special mention of Aadhaar, the pan-India biometric identity card that was launched by the Unique Identification Authority of India (UIDAI). "Aadhaar now has scaled to over one billion people, rivalling the growth of other platform innovations such as Windows, Android or Facebook," he writes in his book that released all across the US on Tuesday.
Mr Nadella also writes about his trip to Bengaluru and a conversation with Infosys Chairman and UIDAI architect Nandan Nilekani about IndiaStack and its future road map. India Stack is the project that has created a unified software platform to bring the country's population into the digital age. The software platform is an essential part of the Aadhaar programme.
"Nandan is the legendary founder of Infosys, who went on to create a new start-up working with the Indian Government-Aadhaar- the identity system that is at the center of India Stack," he said. "India is leapfrogging from once being an infrastructure-poor country to now leading in digital technology," he adds.
On Indian start-ups and entrepreneurs
In his book, Mr Nadella has also mentioned Enlightiks, a start-up that was acquired by Practo, a leading e-health company in India. "I met the founder of Enlightiks on the same trip to Bengaluru. They are using the latest cloud technology and AI from Microsoft to create a state-of-the-art health care diagnostics service that can, for example, detect an Atrial fibrillation event before it happens…in turn, this cloud service can be made available to hospitals in smaller towns or rural areas in India. Enlightiks also has plans to take advantage of IndiaStack to authenticate the user, accept payment, create portal medical records, and much more," he writes.
On love and giving up a Green Card for his wife
With his permanent residency coming in the way of his newly wed wife joining him in the US, Mr Nadella surrendered his Green Card and applied for an H-1B visa, a move which gave him instant notoriety around the Microsoft Campus in Redmond. At one point of time, early in his career, even with a Green Card in his hand, Mr Nadella seriously contemplated leaving his job at Microsoft and returning to India. His wife Anu was not able to join him in Seattle, due to an existing US law, which stated that if a Green Card holder married, his or her spouse's visa would be rejected. The law continues even today. (With PTI Inputs).
Source-Ndtv