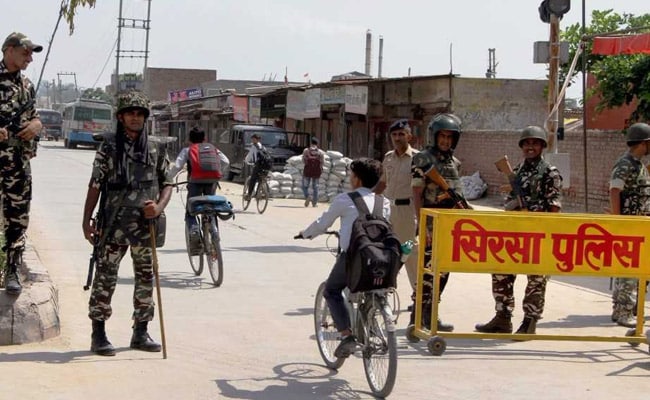 Over 80 cartons of explosives were recovered from the premises, which the officials of Dera Sacha Sauda, the sect headed by Gurmeet Ram Rahim Singh, say were used to make crackers.
Dera Sacha Sauda Headquarters Search: Police are searching Gurmeet Ram Rahim's campus in Haryana.
SIRSA, HARYANA: An illegal explosive factory and two secret tunnels - one leading from Gurmeet Ram Rahim Singh's residence to a women's hostel - have been found inside the jailed self-styled guru's sprawling Dera campus in Haryana's Sirsa on the second day of a court-ordered search being carried out by security forces and district authorities. 85 cartons of explosive material were recovered from the premises, which members of Ram Rahim's Dera Sacha Sauda sect say were to be used to make firecrackers. The factory has been sealed and a forensic team is examining the nature of the explosives.
Here is your 10-point cheatsheet to this big story:
Some explosive material to be used in making fire crackers was also found. "It is an illegal factory and a case has been registered against the Dera," said government spokesperson, Satish Mishra.
Two secret tunnels were also found inside the Dera campus, one that linked Ram Rahim's private residence to a women's hostel and the other muddy path opened some 5 km away from the Dera premises, possibly an escape route. "We found a window-like path leading from Dera Awas to Sadhvi Niwas. Team is investigating," Mr Mishra said.
The search teams have also found hundreds of pairs of shoes, designer clothes and colourful caps of the disgraced sect chief.
Teams of officials and policemen with hundreds of paramilitary troops raided the Dera campus on Friday morning. Nearly 50 videographers , more than a dozen locksmiths and digging machines were taken inside to look for hidden tunnels.
In just two hours of search, the authorities seized a huge amount of cashincluding plastic money, banned currency, hard discs, one Toyota Lexus luxury SUV and computers.
Mobile internet services have been suspended in Sirsa as a precautionary measure to maintain peace during search operations.
In a staggering picture of wealth and power, the Dera headquarter in Sirsa houses a 7-star "MSG resort" with replicas of Eiffel Tower, Taj Mahal, Kremlin and Disney World inside its premises. Every building in Dera campus has a flashy photo of the Dera chief.
The campus has palatial bungalows of Ram Rahim's other family members, none of whom are in the premises since the conviction of the Dera chief. It also houses an "international school", a shopping mall, a hospital, a stadium and a cinema theatre that screens "MSG" franchise movies.
"The Dera premises is a very huge area and it will take time to complete the entire process," Haryana police chief BS Sandhu said. A pink building known to be Ram Rahim's "Gufa (cave)" - the house where the women were raped - will also be searched, the official said.
Violence broke out in Sirsa and Panchkula after the Ram Rahim was convicted of rape on August 25. At least 38 people died in rioting by Dera supporters, say police.
Source - NDTV