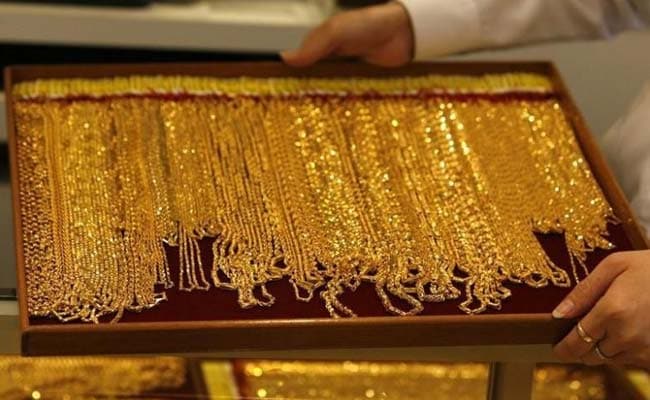 Gold price settled at Rs. 30,350 per 10 grams
New Delhi: Tepid demand and weak overseas trend led domestic gold prices to fall sharply by Rs. 500 close at Rs. 30,350 per 10 grams at the bullion market today. Silver however recovered by Rs. 200 to Rs. 41,850 per kg. In the national capital, gold of 99.9 per cent and 99.5 per cent purity tumbled by Rs. 500 each to Rs. 30,350 and Rs. 30,200 per ten grams, respectively. It had lost Rs. 150 yesterday. Sovereign, however, remained unaltered at Rs. 24,700 per piece of eight grams. On the other hand, silver ready rebounded by Rs. 200 to Rs. 41,850 per kg and weekly-based delivery by Rs. 270 to Rs. 41,300 per kg. Silver coins, however, continued to be traded at previous level of Rs. 74,000 for buying and Rs. 75,000 for selling of 100 pieces in scattered deals.
Here are 5 things to know about gold price fall today1) As concerns over North Korea and the US hurricanes faded, sentiment for riskier assets improved with global stocks rising to record highs. This kept pressure on global gold prices.
2) Global gold prices held steady on Wednesday amid firmer equities and a softer dollar, with safe-haven demand for the metal supported after U.S. President Donald Trump urged tougher measures against North Korea. Spot gold was unchanged at $1,331.47 an ounce.
3) Fading demand from local jewellers as well as retailers attributed to the fall in domestic gold prices, traders said.
4) Meanwhile, the dollar index, which measures the greenback against a basket of currencies, slipped 0.1 per cent to 91.758, but managed to remain above its 2-1/2-year low hit last week.
5) A stronger greenback makes bullion more expensive for holders of other currencies, while higher interest rates lead to higher bond yields and dampen demand for non-interest yielding gold. (With PTI Inputs)
Source - NDTV