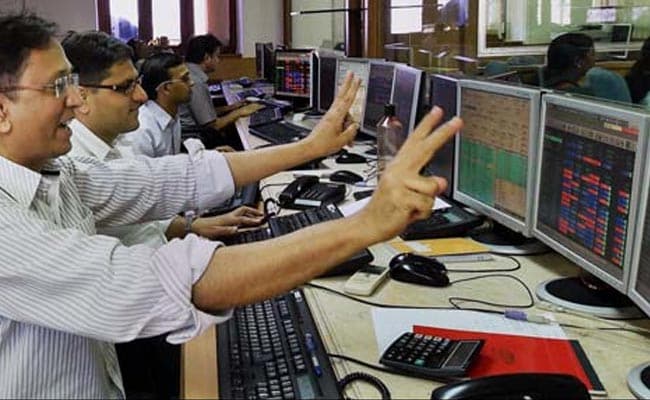 The Nifty hit a record high of 10,160, surpassing its August high of 10,137, while the BSE Sensex rose nearly 180 points.
All sectoral indices on the BSE were trading in the green (Representational image)
Indian stock markets surged to new highs today amid firm global markets and strong buying from domestic institutional investors. The National Stock Exchange benchmark index Nifty hit a record high of 10,167.15, surpassing its August high of 10,137, while the BSE Sensex rose over 200 points. Noida-based Dixon Technologies made a blockbuster debut on exchanges with its shares rising nearly 70 per cent to Rs. 2,999 against its issue price of Rs. 1,766. All the sectoral indices on the BSE were trading in the green while gains were led by oil & gas, capital goods and banking stocks. The broadest index of Asia-Pacific shares outside Japan rose 0.9 per cent to reach heights not visited since late 2007. On Friday, the Wall Street touched record highs, with the S&P 500 surpassing 2,500.
Here are 10 things to know about Nifty, Sensex surge today:
The rupee has held firm against the US dollar this year, rising nearly 6 per cent year to date. Surging foreign inflows into Indian debt markets, optimism about acceleration in economic growth from fiscal second quarter and subdued inflation has boosted inflows into Indian debt markets. The rupee was trading at 64.03 against the dollar in early trade, against Friday's close of 64.07. Investor wealth in Dixon Technologies surged nearly 70 per cent in a day after the Noida-based manufacturer of consumer electronic products made a strong debut on exchanges. Its Rs. 600 crore-IPO was subscribed 118 times on the back of strong demand from institutional investors and high networth individuals.
Strong buying from domestic institutional investors (DIIs) has supported the 24 per cent rally in Indian stock markets this year. According to estimates, they have pumped in around Rs. 70,000 crore into stock markets this year till September.
Retail investors are pumping in close to Rs. 5,000 crore in mutual funds through Systematic Investment Plans or SIPs, which are investment vehicles offered by mutual funds to help investors park small sums of money regularly.
The Nifty has strong support at 10,000 levels, according to domestic brokerage Angel Broking.
Asian shares hit decade highs today and the dollar held firm as there was relief that the weekend passed with no new provocation by North Korea. However, Pyongyang's nuclear ambitions will be centre stage when US President Donald Trump addresses world leaders at the United Nations on Tuesday.
Other important events which could impact global markets this week: Some details of Mr Trump's tax plans may also emerge while elections in Germany and New Zealand will add extra political uncertainty to the mix.
For markets, this week's main event, however, will be the Federal Reserve's policy meeting on Tuesday and Wednesday, "This week is all about global liquidity, with the Fed widely expected to announce the unwind of its balance sheet on Wednesday," ANZ analysts said in a note.
Analysts say that the rupee is likely to remain supported even if the US central bank decides to pare its stimulus. Inflows from global investors and the RBI's record $400 billion reserves could keep rupee supported, they add.
Global crude oil prices were hovering near five-month highs helped by forecasts for rising demand and the gradual restart of US refineries. This help fuel a rally in domestic oil & gas stocks, with Reliance Industries rising 0.80 per cent.
Among the Nifty50 stocks, Tata Motors, Bajaj Auto, Bharti Infratel and L&T were among the top gainers, up between 2 per cent and 3.2 per cent.
Source - NDTV