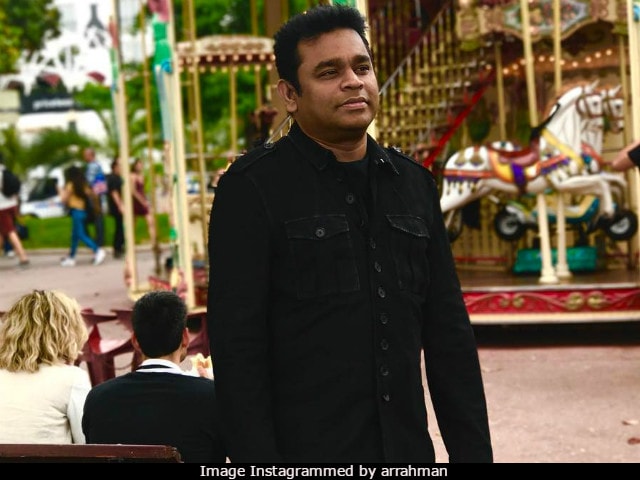 "I have always got a mixed response. When Roja came in, people said I will not sustain more than three months. Then Bombay came, people said what is this? Then Rockstar, Slumdog Millionaire, Mom happened. I accept it all," said A R Rahman
"I have always got a mixed response," said A R Rahman
HIGHLIGHTS
"I try to be honest with my work," said Rahman
"I have always got a mixed response," said A R Rahman
"Everybody says do your job and then do music as a part time," he added
From Roja to Rang De Basanti, AR Rahman's music has struck a chord with his listeners, but the Academy award-winning composer feels he has mostly received a mixed response for his tunes. Rahman's film career took off when he composed for Mani Ratnam's Roja and ever since he has been the most sought-after musician in the country. Some of his memorable compositions have been in films like Bombay, Dil Se, Taal, Lagaan, Swades, Guru, Jodhaa Akbar, Rockstar, Enthiran and Slumdog Millionaire.
"I have always got a mixed response. When Roja came in, people said I will not sustain more than three months. Then Bombay came, people said what is this? Then Rockstar, Slumdog Millionaire, Mom happened. I accept it all."
"Internally, I try to be honest with my work and I always do this," Rahman told PTI when asked about the audience not liking his music in some films.
He says music composing as a profession is often not regarded as a great career move as many believe it does not have credibility.
"Everybody says do your job and then do music as a part time (job). We want to make that more and more as a profession to look for. When you look at the world scenario... I think creative professionals have more scope (to excel professionally) than other things (referring to profession)."
Rahman, who is awaiting the release of his film titled One Heart: The AR Rahman Concert Film, is keen on backing more musical films.
"We are concentrating on music-based films and so we can play out more music to people," he says.
The 50-year-old composer feels there is a process of making musical films, something which he has learnt while observing Hollywood movies.
"There is a process of making musical films. I have done two-three abroad, they have a script in place, they do the songs first, they do workshop, they make the actors act and also sing, so the graph is set in a smaller level. Then they shoot so that way they don't misfire on a bigger level," he says.
"The Phantom of the Opera by Andrew Lloyd Webber was good, I saw the actors coming in and rehearsing for days. So the process has to be tried and tested as a lot of money is put in." One Heart: The A R Rahman Concert Film, set to release tomorrow, shows how concerts are conceptualised and the stories behind the stage. In the film, Rahman will be seen in multiple locations including his concerts. The proceeds from the movie will go to Rahman's One Heart foundation to help old musicians and their families.
Source - NDTV