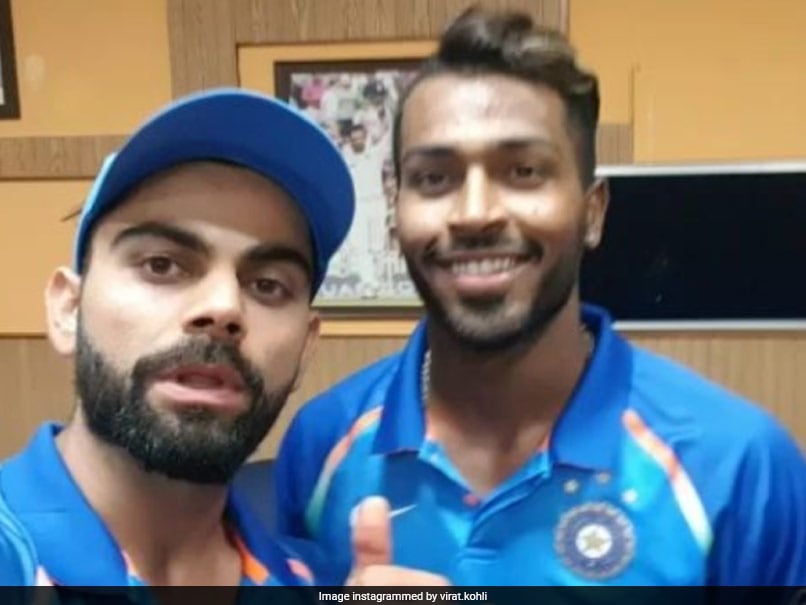 Hardik Pandya scored a match-winning 78 to decide the series in India's favour.
Kohli credited the idea of promoting Pandya up the order to coach Ravi Shastri© Virat Kohli Instagram
Captain Virat Kohli on Sunday described Hardik Pandya as a 'great asset' to Indian cricket after the all-rounder steered the hosts to a series-clinching five-wicket win over Australia in Indore. Pandya's 72-ball 78 and his crucial fifth-wicket stand with Manish Pandey, who remained unbeaten on 36, helped the hosts chase down their 294-run target with 13 balls to spare. Pandya showed maturity after being promoted to number four in the batting order as he put on 78 runs with Pandey, who scored the winning runs. Asked about Pandya's promotion, Kohli credited the idea to coach Ravi Shastri. "His promotion today was Ravi bhai's thought. He felt we needed to attack the spinner. We totally back him and he's a hard working guy," he said.
Kohli stated that Pandya adds balance to the team and Indian cricket was in need of an explosive all-rounder like him.
"Rohit and Rahane were very good and then Hardik Pandya, only he can do what he does when he bats like that. He (Pandya) is a star," a delighted Kohli said after the win.
"He possesses ability with the bat, ball and in the field as well. We have been wanting a guy like that for the past five, six years.
"A really explosive all-rounder is what we were missing and he's giving us that balance. A great asset for Indian cricket and I wish him all the best for the future," Kohli added.
The 23-year-old Pandya, who survived a dropped chance by skipper Steve Smith off Ashton Agar on 41, once again made it count for India after his 83 in the opening game in Chennai.
After the match, Kohli donned a reporter's hat and even recorded a little interview with Pandya in the dressing room.
"Happy to bat anywhere they want me to. Rather seeing it as challenge, I see it as opportunity to do something nice for team," Pandya said in the post-match press conference.
India have jumped to the top of the ODI rankings for now, overtaking Australia and South Africa, but can still slip to the number-two spot if the visitors win the next two games.
The fourth ODI is scheduled for Thursday in Bengaluru.
(With inputs from AFP)
Source - NDTV