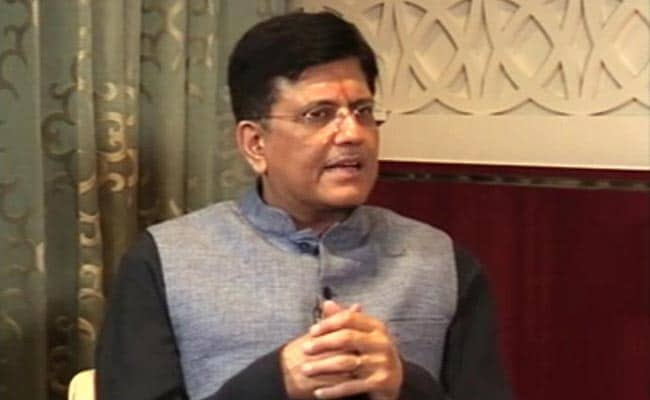 Piyush Goyal said demonetisation had "sent out a strong message" on black money.
NEW DELHI: A day after Prime Minister Narendra Modi's strong defence of his government's handling of the economy, one of his top ministers Piyush Goyal has asserted that, "the economy is in very good shape", saying a slowdown in growth is temporary, caused by the big and complex transition to a new national tax regime GST.
Speaking exclusively to NDTV, Mr Goyal, who is the minister for railways and coal, rejected criticism of last year's notes ban and GST saying both were essential to convert the informal economy into a formal economy. Demonetisation, Mr Goyal said, was a "significant success", and had "sent out a strong message" on black money, signalling a change of mindset that says, "let's now go for an honest, clean formal economy."
Challenges like massive bad loans piled up with banks, Mr Goyal said, were inherited by the Modi government, which he described as a government that "was ready to bite the bullet."
The minister steered clear of talking about the central bank's conservative approach in cutting interest rates but underscored that the government did engage "with all schools of thought and with our regulators". Interest rates that were "pretty high" three years ago had "fallen by 200 basis points", or 2 per cent, he added, pointing that good companies could access finance at "very competitive rates".
On criticism on the way GST has been implemented, Piyush Goyal pointed out that as part of a GST council, the Centre and states had worked in tandem to build a framework for a national tax.
Six Congress governments, two Communist governments, the West Bengal government of Mamata Banerjee and the Delhi government of Arvind Kejriwal had taken part in the massive task, the minister said, adding that the government would "certainly after three months take stock and if there is need to repair and improve on it...this government is always looking for improvement."
Mr Goyal stressed that GST hadn't increased the compliance burden for businesses as some had claimed. "It is the learning burden that has gone up in GST. Compliance is not going to be a burden at all... But there is a learning curve and people had to get used to it," he said, promising that the government was mindful of this aspect and ready to hand-hold people.
The opposition has attacked the government over the economic slowdown, blaming the two big reforms, and former union ministers Yashwant Sinha and Arun Shourie have warned that demonetisation and GST were poorly timed.
The Prime Minister said yesterday that a "handful of people" are trying to spread pessimism after growth slowed to 5.7 per cent in the last quarter, the lowest in three years. He said the government acknowledges that growth slowed and is "committed and capable" of reversing the setback.
Mr Goyal said today that the Modi government takes well to "constructive ideas that come up."
The Railways Minister also countered critics of the government's bullet train project from Ahmedabad to Mumbai, assuring that the plan will not affect spending on rail safety. "The money available for the bullet train is very different from money for safety. There is no limitation of funds in the Indian Railways, particularly for safety," Mr Goyal said.
He said the Ahmedabad-Mumbai bullet train was the country's first high-speed train and there would be more, helped no less by the fact that the Japanese would pass on the technology to build more such trains in India for other routes.
Indians deserve the bullet train, the minister said, pointing out that the last modern train came to India in 1969, almost 50 years ago.
Source-NDTV