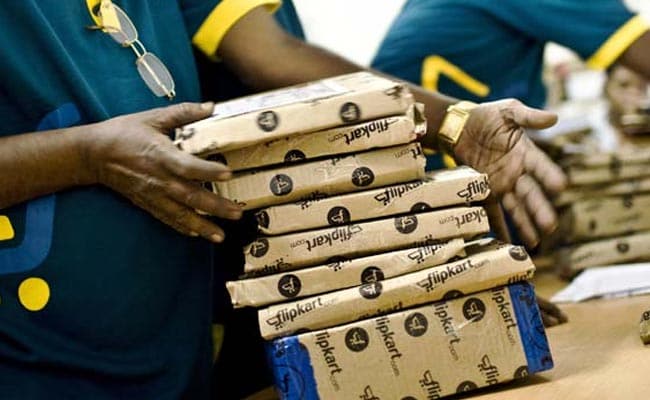 Flipkart said the cashback offer can be availed from October 5, 2017 to October 8, 2017
HIGHLIGHTS
Flipkart kicked off 4-day Festive Dhamaka Days sale on October 5
10% cashback up to Rs. 2,000 on purchases via Axis Bank cards: Flipkart
Flipkart is offering a cashback of 10 per cent in a limited-period scheme. Flipkart, which kicked off a festive season sale - called Festive Dhamaka Days - on October 5, 2017, is offering a cashback of 10 per cent up to Rs. 2,000 on purchases made by customers using Axis Bank cards, according to the e-tailer's website - flipkart.com. The cashback offer - applicable on purchases made using Axis Bank credit and debit cards - is applicable on all purchases and requires "No Minimum Order Value", e-commerce major Flipkart said on its website. Under the Axis Bank cashback scheme, the amount earned as cashback will be credited to the customer's card account by January 10, 2018, Flipkart added.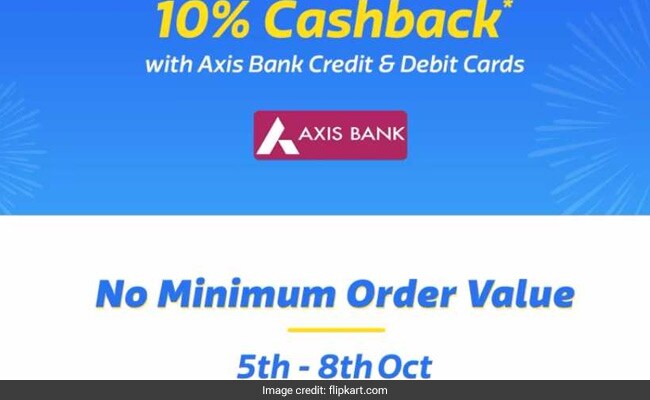 (Flipkart said the offer requires no minimum order value)
Here are 10 things to know about the Flipkart cashback offer:
1. Customers can avail a maximum cashback of Rs. 2,000 under the offer, according to the Flipkart website. "Maximum Cashback per card to be INR 2,000," Flipkart said.
2. The cashback offer - on purchases made using Axis Bank debit and credit cards - can be availed from October 5, 2017 to October 8, 2017, it noted.
3. That means the offer can be availed on purchases of any amount. "No Minimum net cart value," said Flipkart. "There is no limit on the number of transactions. However, you can avail a maximum cashback of up to INR 2000 per card during the offer period," Flipkart added.
4. The cashback offer, Flipkart said, is applicable on select products. "Offer will reflect on product page for all eligible products; please check before making purchase," the e-commerce company noted.
5. The Flipkart cashback offer is not applicable on products including Flipkart gift vouchers, MakeMyTrip/Hotstar Premium subscription/vouchers and select Samsung mobile phones, according to Flipkart.
6. Cashback on part payment by card: Flipkart said customers paying 'through Flipkart Gift Card partially" will also be eligible for the offer. "In this case, the offer will only apply on the amount paid through Axis Bank Debit/Credit Card against the eligible product(s)," Flipkart added on its portal.
7. The offer, Flipkart said, is not applicable on payments made through PhonePe using an Axis Bank debit or credit card.
8. Customers can avail the Axis Bank cashback offer on Flipkart websites - flipkart.com and m.flipkart.com (mobile site) as well as mobile app - Flipkart Mobile App. The offer, Flipkart said, is "open to all residents of India holding a valid and current Axis Bank Debit or Credit Card (Cardholder/ You/ Your and Card)".
9. The cashback can also be availed "on EMI transactions done using an Axis Bank credit card", Flipkart added.
10. Any add-on Axis Bank card will be treated as a separate card, Flipkart added.
Source-NDTV