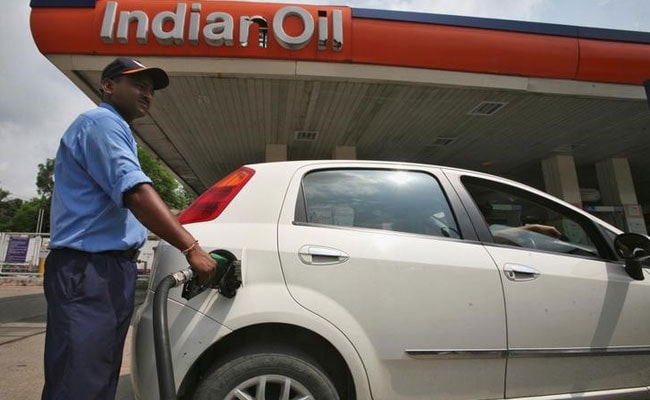 Petrol and diesel prices fell sharply today following a cut in excise duty, bringing relief to consumers. Currently, petrol and diesel prices are revised on a daily basis. After today's revision, prices of diesel fell by Rs. 2.25 per litre in Delhi, Rs. 2.25 in Kolkata, Rs. 2.38 in Mumbai and Rs. 2.41 in Chennai. The price of diesel today retailed at Rs. 56.89 in Delhi, Rs. 59.55 in Kolkata, Rs. 60.43 in Mumbai and Rs. 59.89 in Chennai, according to Indian Oil website. In comparison, on October 3 (Tuesday), diesel was priced at Rs. 59.14 in Delhi, Rs. 61.8 in Kolkata, Rs. 62.82 in Mumbai and Rs. 62.3 in Chennai, according to Indian Oil.
Similarly, petrol prices also fell sharply after today's revision. Petrol prices in Delhi, Kolkata and Mumbai fell nearly Rs. 2.5 per litre while in Chennai the reduction was Rs. 2.6. Petrol today retailed at Rs. 68.38 in Delhi, Rs. 71.16 in Kolkata, Rs. 77.51 in Mumbai and Rs. 70.85 in Chennai. In comparison, on October 3 (Tuesday), petrol was priced at Rs. 70.88 in Delhi, Rs. 73.62 in Kolkata, Rs. 79.99 in Mumbai and Rs. 73.48 in Chennai.
s.

)

Delhi
Koltata
Mumbai
Chennai
Oct-04
56.89
59.55
60.43
59.89
Oct-03
59.14
61.8
62.82
62.3
Fall in prices
2.25
2.25
2.39
2.41

s.

)

Delhi
Kolkata
Mumbai
Chennai
Oct-04
68.38
71.16
77.51
70.85
Oct-03
70.88
73.62
79.99
73.48
Fall in prices
2.5
2.46
2.48
2.63
(Petrol, diesel prices today in metro cities after revision)
T
he government on Tuesday cut excise duty on petrol and diesel by Rs. 2 per litre each, a move which have brought down fuel prices. Global crude prices have surged to their highest level in two years on optimism of a demand pick-up and geopolitical tensions. The excise duty cut on petrol and diesel would cost the government Rs. 26,000 crore in annual revenue and about Rs. 13,000 crore during the remaining part of the current fiscal year that ends on March 31, 2018, an official statement announcing the reduction said.
Previously, the rates were changed every fortnight but since June 16 they are revised daily to immediately pass on any movement in international oil prices to consumers and avoid sharp spikes by spreading them in small doses.
Experts have welcomed the move. Abhishek A Rastogi, partner at legal advisory firm Khaitan & Co, said: "The reduction of tax on the petroleum products was essential and is certainly very welcome. This will give some sigh of relief to the businesses and consumers."
Petrol and diesel don't come under the ambit of GST. Besides, global prices, excise duty and VAT determine the domestic price of petrol and diesel. India relies on imports to meet 80 per cent of its needs and so domestic fuel rates have been aligned to movement of equivalent product prices in the international market since April 2002.
Oil Minister Dharmendra Pradhan had earlier said he has requested the Ministry of Finance to bring petroleum products under the ambit of Goods and Services Tax (GST) in the interest of consumers. There has to be a "uniform tax mechanism" all over the country, he said.
Source-NDTV