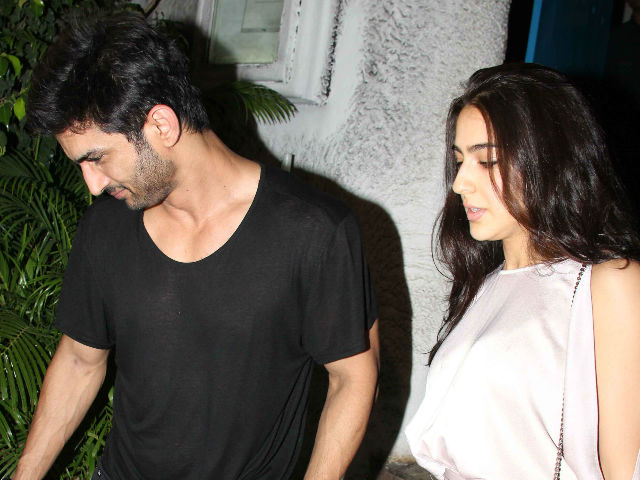 NEW DELHI:
HIGHLIGHTS
Ekta Kapoor treated them to Mumbai food
"The film is overwhelming and meaningful," she said
Sara is Saif Ali Khan and ex-wife Amrita Singh's daughter
Sara Ali Khan and Sushant Singh Rajput, who are currently filming Kedarnath in Uttarakhand, hosted a special guest on set. Ekta Kapoor, the film's producer, visited the team a couple of days ago and also performed puja at the Kedarnath temple. Ekta treated Sara, Sushant and the entire team to good food and also bought gifts for them, reports mid-day. Ekta is Abhishek Kapoor's cousin, the director of Kedarnath. "Ekta met the team, including Sushant Singh Rajput and Sara Ali Khan. The homesick got a taste of Mumbai food with the goodies she brought. Filming Kedarnath has been tough, but the visuals of the location are being captured the way Gattu (Abhishek) envisioned them. The location is crucial, so the team is minimising the photos being taken to reduce chances of a leak," a source told mid-day.
Of the work-in-progress film, Ekta told mid-day, "With Kedarnath, Gattu (Kapoor) will take the audience on an emotional journey. The film is overwhelming and meaningful, and is the kind of immersive cinema we need today."
Ekta also posted multiple pictures from the sets on social media.
Kedarnath is Sara, Saif Ali Khan and ex-wife Amrita Singh's daughter, debut film. Abhishek earlier said that he feels 'privileged' to launch Sara in Bollywood. "I feel very privileged that I can make the movies I want to make and with whom I want to make them. If I can use that privilege to introduce new talent and enrich the business, nothing like it," he told news agency PTI. The film tracks the love story of Sara and Sushant, who plays the role of a pithhu, a person who carries pilgrims to the shrine.
Source-NDTV