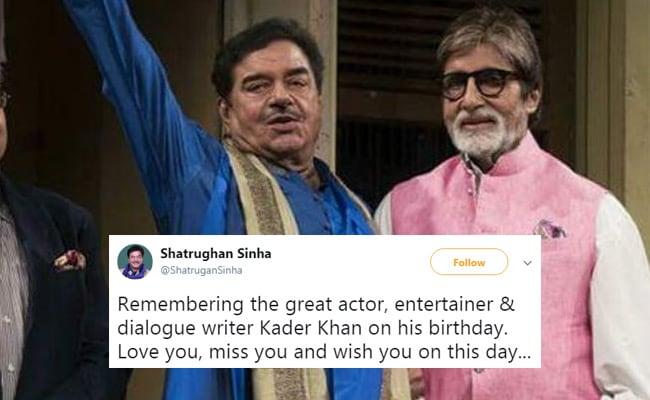 Yesterday, actor-politician Shatrughan Sinha tweeted a birthday wish for Kader Khan. "Remembering the great actor, entertainer & dialogue writer Kader Khan on his birthday. Love you, miss you and wish you on this day..." wrote Mr Sinha on Twitter. Accompanying his tweet was a picture of Mr Sinha himself with Amitabh Bachchan. The bizarre birthday tweet, which did not include a picture of Kader Khan, prompted several hilarious responses on the micro blogging website.
Although Mr Sinha later defended his original tweet by saying that both he and Amitabh Bachchan had worked with Kader Khan, Twitter was not impressed with the explanation and proceeded to fill the thread with hilarious responses.
Here is how Twitter has been trolling Shatrughan Sinha by tweeting about famous personalities with hilariously mismatched pics:
Shatrughan Sinha and Kader Khan have worked together in movies like Khoon Bhari Maang, Qaidi and Teesri Aankh.
Source-NDTV