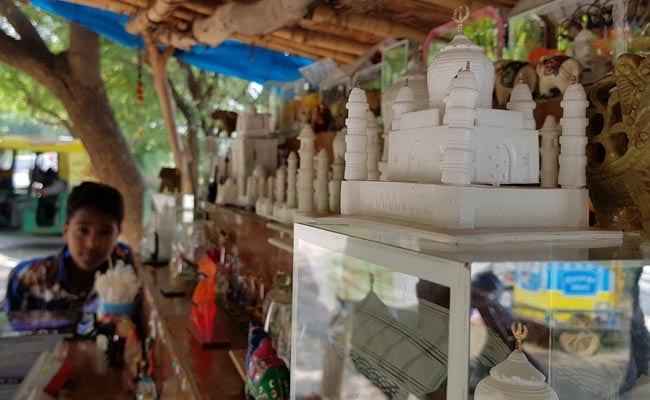 Locals selling Taj Mahal mementos are concerned over the monument's de-listing by the government (NDTV)
AGRA: As a 11-year-old, Shahid Abbas needed to start making a living. Forbidden from working anywhere else, he set up a stall selling Agra's most popular product- Taj Mahal mementos.
Today Mr Abbas, now 23, earns roughly Rs. 500 every day at his memento stall. The money is enough to cover the daily needs of his family of four.
However, like many other shopkeepers and tour guides in the city, Mr Abbas is caught off guard by the Uttar Pradesh government's decision to remove the Taj Mahal from the state tourism booklet.
The tourism booklet, which was released to mark six months of the Yogi Adityanath government in UP, includes plans for new attractions including a tour of monuments and locations central to the Ramayana. It also includes existing tourist destinations like the Gorakhpur temple (of which Chief Minister Yogi Adityanath is the main priest).
"If looking at the list, tourists don't come to the Taj, it will impact us a lot because our business is to sell the Taj," said Mr Abbas.
Some tour guides at the Taj Mahal wonder if the delisting is an oversight. Others cannot imagine a scenario where the historic monument is simply forgotten.
"Tourists come to India just to see the Taj," said Kartik Yadav, a tour guide at the Taj Mahal. "I don't think this will impact tourists, but what has happened is wrong."
Mohammad Shah, another tour guide, is worried that the action may actually drive tourists away.
"If this is included in the seven wonders, then UP tourism has no right to remove it," said Mr Shah.
Chief Minister Yogi Adityanath had earlier said that the monument "has no connection with India's culture or heritage". He had made these remarks in context of gifts of tiny models of the Taj Mahal given to visiting foreign dignitaries by previous governments.
However, many foreign visitors continue to see the Taj Mahal as a symbol of India, and are very surprised by the delisting.
"I saw the Taj Mahal in the movies and I've dreamt about visiting it ever since," said Yu-Jin Park, who studies Indian history in South Korea. "Seeing it is a dream come true. I cannot imagine why they would not include it in a tourism booklet."
Source-NDTV