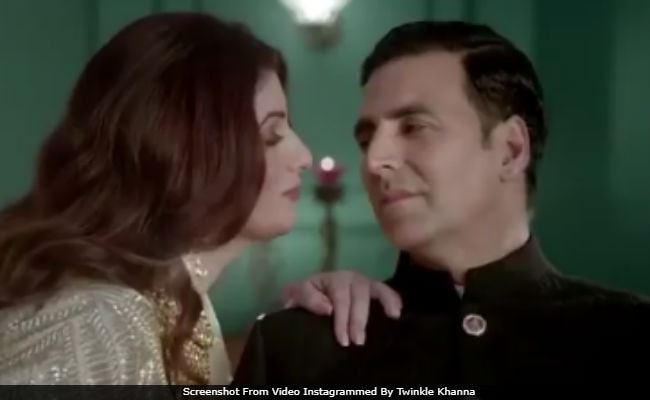 Akshay Kumar and Twinkle Khanna married in 2001 (Image courtesy: twinklerkhanna)
NEW DELHI:
HIGHLIGHTS
"If your wife forgets your anniversary, that's a danger sign," he says
"And we tango on," wrote Twinkle
Flowers and cards are all passé. Actor Akshay Kumar shows you how to impress your wife by telling her you remember their wedding date. Akshay and Twinkle Khanna have shot for an advertisement which probably is the best thing on the Internet currently. The video, shared by them on social media, starts with Twinkle working on her laptop, asks Akshay, 'which year did we get married?' She googled simultaneously and the search engine beat Akshay in giving the correct answer. The focus later moves to Akshay, who says, "If your wife forgets your anniversary then that's a danger sign." He smiles and the scene then shifts to Twinkle, who apparently is getting ready for a party and there comes a surprise for her. She finds new jewellery boxes in her dressing room and what follows next is way too cute. Watch here, "Kyunki kuch cheezein badli nahi jaati."
Akshay teaches us - Anniversary or not, a piece of jewellery is bound to add a sparkle to your relationship. (Akshay and Twinkle, you guys are so adorable). "Sometimes I write speeches for him, in return he gives me acting tips. And we tango on, trying not to stomp on each other's feet," is how Twinkle describes their relationship through the video.
Remember Akshay's speech at the Vogue awards? It was written by Twinkle and later, her speech at the recently-held Vogue Women Of The Year Awards, went viral.
Akshay Kumar, 50, and Twinkle Khanna, 42, have been married since 2001. They have two children, son Aarav and daughter Nitara. Akshay Kumar won the National Award for Best Actor this year, for his work in 2016 film Rusto. His last release, Toilet: Ek Prem Katha, earned over Rs. 100 crore at the box office. Akshay is currently filming Padman, a film produced by Twinkle. She is a former actress.
Source-NDTV