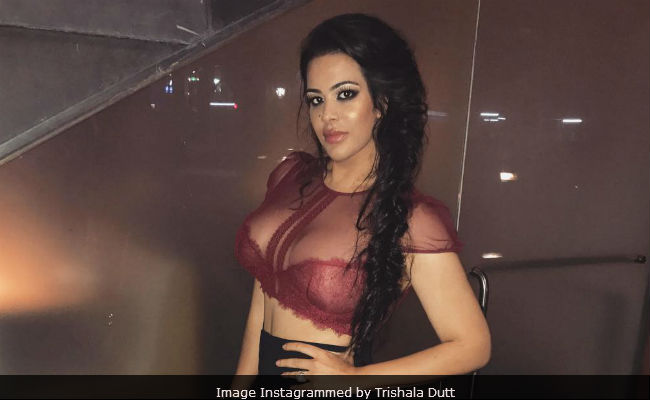 Trishala Dutt in New York. (Image courtesy: Trishala Dutt)
NEW DELHI:
HIGHLIGHTS
Trishala Dutt is trending for this pic
Trishala showed her well-toned body in the pic
Actor Sanjay Dutt and wife Maanyata are enjoying the Diwali festivities in full mood while their eldest daughter Trishala is currently away from home and is in the Big Apple. Recently, a picture shared by Trishala on Instagram, in which she poses confidently for a perfect click, went crazy viral on the Internet. In the picture, which has topped the trends list, Trishala, 29, can be seen wearing a red crop top paired with black bell bottoms. She has accessorised her look with a black bag and hair tied in a messy fish braid. It seems Trishala is in fitness mood as she poses and shares her stomach definition and well-toned body. Trishala is Sanjay Dutt's daughter with his first wife Richa Sharma, who died in 1996.
Expressing her happiness in the hashtags, Trishala also gave us a glimpse of her workout regime and diet. "#mybodytho #stomachdefinition #gymlife #aboutlastnight #yay #lemonwaterworks #andcardio #7daysaweek," Trishala captioned the picture. The picture has gained over 10,020 likes.
Sanjay Dutt, who recently featured in Bhoomi, is also a father to a younger daughter Iqra from his third wife Maanyata. Shahraan is Iqra's twin brother.
Trishala also delighted us all by sharing a picture of herself from her childhood days, in which she can be seen enjoying in her father's arms.
Take a look at Sanjay Dutt and 'daddy girl' Trishala's adorable picture here:
Trishala is a resident of New York. Recently, she also celebrated her birthday in the Big Apple. Trishala shared pictures from the party, for which she was dressed in a peppy Dolce and Gabbana bodycon dress paired with Jimmy Choo heels. Maanyata wrote 'beautiful' in the comments section and we corroborate.
Sanjay Dutt was last seen in Bhoomi, which was based on a relationship between a father and a daughter. Sanjay Dutt released the trailer of the film on Trishala's birthday, which was a gift for her.
Source-NDTV