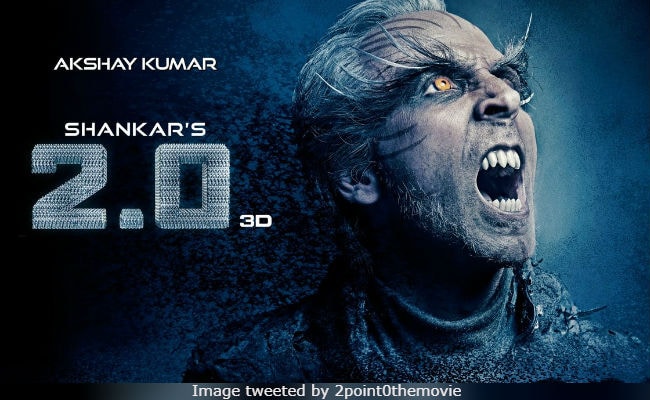 Ya, that's Akshay Kumar on a new 2.0 poster (courtesy 2Point0movie)
NEW DELHI:
HIGHLIGHTS
Akshay Kumar plays the prime antagonist in 2.0
He will reportedly have 12 different looks in the movie
Rajinikanth will expectedly have five looks
This is not for the faint-hearted. We have spotted another poster of Akshay Kumar on 2.0's Twitter feed and it is the scariest we have seen so far. The Bollywood khiladi co-stars with Rajinikanth in the most talked about Robot drama of the season and is the main antagonist in the movie. Akshay Kumar's half-bird half-human look can be explained this way - he plays scientist Dr Richards, who undergoes a deadly
transformation
after an unsuccessful experiment. Akshay will reportedly have 12 different looks for the movie, one of which is the one that's played up as promotional material. Rajinikanth reprises the role of Dr Vaseegaran and his creation Chitti the Robot in the sequel to 2010 blockbuster Enthiran.
Amy Jackson also joins the impressive cast line-up with Rajinikanth and Akshay. Rajinikanth will reportedly feature in five different roles. Yes, that's Akshay Kumar on a new 2.0 poster on the bottom right.
This poster of Rajinikanth and Akshay's 2.0
released
last week to set our screens on fire.
While we haven't seen Akshay in such a deadly persona before, the actor too is pretty excited about his first ever
Rajinikanth
movie. "I've never done a role like this in my entire career. And, I've never seen anyone doing a character like this. It was a whole new experience to play the role of an anti-hero," PTI reported Akshay as saying while promoting the movie in Dubai.
Here are the first look posters of 2.0 shared earlier this year:
Apart from Rajinikanth, this is what makes 2.0 special for Rajnikanth: "I have done 130 films in Bollywood. 2.0 was my 131st film. I can only say that during the making of those 130 films, I got to learn little from every film, but I was learning throughout the shooting of this film," he told IANS.
2.0 is also being reported by many as Asia's most expensive movie so far with a budget of Rs.400 crore. Directed by Shankar, 2.0 is scheduled for the Republic Day weekend in 2018.
Source-NDTV