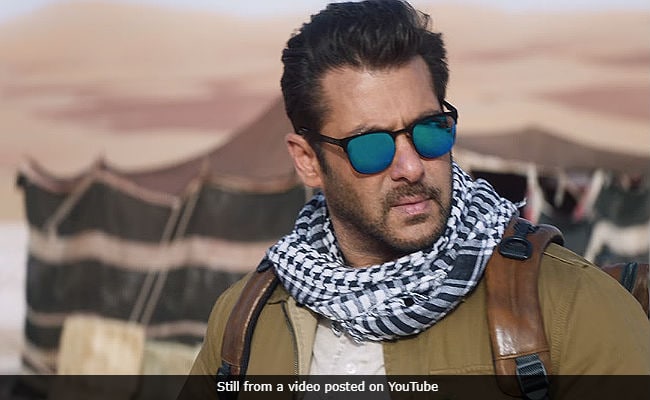 Salman Khan in Tiger Zinda Hai. (Image courtesy: YouTube)
NEW DELHI:
HIGHLIGHTS
The trailer got over 1.2 million views in nearly four hours
Karan Johar and Anil Kapoor say the film will be a blockbuster
Tiger Zinda Hai releases on December 22
The trailer of Salman Khan's much-awaited film Tiger Zinda Hai has taken over social media. Salman Khan shared the trailer on Twitter and said: "The time has come. Tiger is ready to roar." And the social media reactions prove that it is quite a resounding roar. Actors like Anil Kapoor and Huma Qureshi and directors Karan Johar and Kabir Khan (who directed the film's predecessor Ek Tha Tiger) have all given the film's trailer a thumbs up and have prophesied the film's 'blockbuster' success. If you need further proof, then the trailer has over 1.2 million views in nearly four hours. The film takes filmgoers back to Tiger (Salman Khan) and Zoya's (Katrina Kaif) world, where they have to rescue 25 Indian nurses kidnapped by a terrorist organization in Iraq.
Here's Bollywood's verdict on the trailer of Tiger Zinda Hai:
Watch the trailer of Tiger Zinda Hai (if you haven't already):
Tiger Zinda Hai is directed by Ali Abbas Zafar, who also made 2016's Sultan with Salman Khan, again for Yash Raj Films. Tiger Zinda Hai is a fictionalized retelling of a real life incident.
Salman Khan returns as Indian spy Tiger while
Katrina
reprises the role of Pakistani spy Zoya. At the end of Ek Tha Tiger, Tiger and Zoya's respective governments had turned against them and they were declared fugitives. But from the trailer it is evident that Tiger and Zoya are still a team working against a common enemy and for some reason their countries are okay with it.
Source-NDTV